Hindustan Tractors was one of the oldest tractor manufacturing companies of India until Mahindra tractors purchased it and renamed it as Mahindra Gujarat Tractors Ltd in 2001. The tractors of Hindustan had been the first choice of Indian farmers because of their technicality, advancement, performance, and looks.
Table of Contents
Hindustan Tractor – A Brief History
Hindustan tractor company came into existence in 1959 in the city of Vadodara, Gujarat. The company started manufacturing tractors in 1963 in partnership with Motoko Praha of Czechoslovakia, popularly known as Hindustan Tractor & Bulldozers Limited. The company changed its name to Hindustan Tractor Ltd. in 1967.
The tractor designs of the company were inspired by the creation of the Zetor tractor. The tractors were sold under the brand name Hindustan Tractor. Later, the Gujarat government created Gujarat Tractors from the ailing firm in 1978. In 1999, Mahindra Tractor acquired a 60% partnership of the company. Later in 2001, it acquired the remaining 40%. After that, the company was named Mahindra Gujarat Tractors Ltd.
Hindustan tractor company was a trustable brand as it had been offering innovative solutions to customers for many decades. The brand was customer-oriented and knew its customers' requirements very well. The products manufactured by the company always met the demand and budgets of their customers. The brand's primary aim was to satisfy the needs of its customers by offering quality products.
Hindustan tractors had been the first choice of Indian farmers because of their technicality, advancement, performance, looks, and many more. Since the company has discontinued most of its models in the country, you may still find one Hindustan tractor model in India, which is Hindustan 60. Hindustan tractor price is also reasonable and within the budget of farmers, which is another reason for their popularity in India.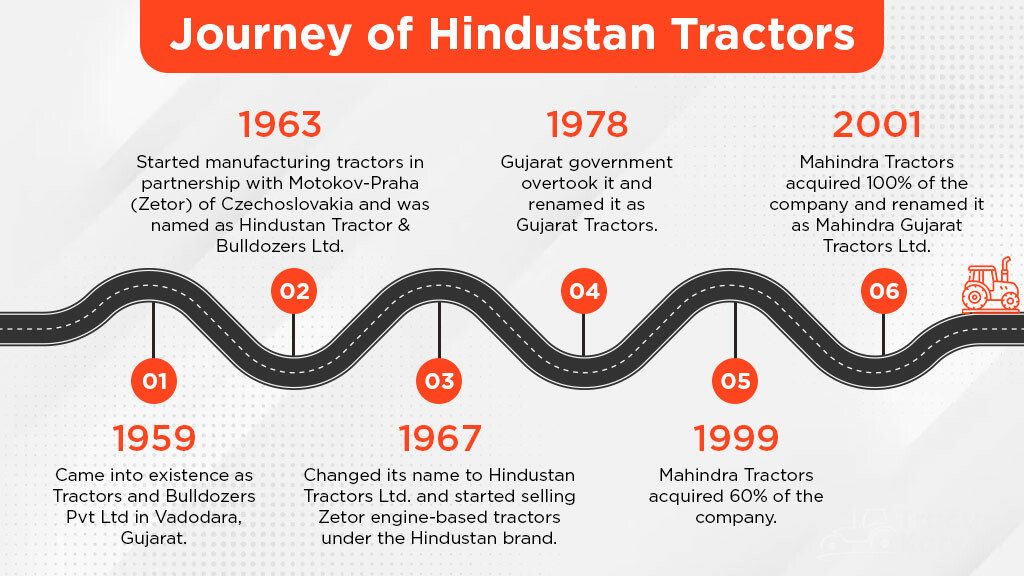 Common Features of Hindustan Tractors
Hindustan tractor company worked for its customers for the last five decades. The company has a remarkable quality that made it customers' favourite. Moreover, it offered completely packaged tractors and farming tools to its customers. Here, we have listed some common features of Hindustan tractors that shows why this brand was so popular among Indian farmers.
Hindustan Tractor manufactured Made in India tractors.
It consisted of comfort and advanced features.
The brand provided end-to-end solutions to customers.
Hindustan tractor brand was a synonym for comfort and durability.
The company always manufactured top-quality products.
It always worked towards the development of rural India.
All tractors were equipped with superior technology for proper and smooth work.
Hindustan tractor price was affordable and easily fits any farmer's budget.
Popular Hindustan Tractor Models in India
The brand offered only one tractor model in India, which was Hindustan 60. Now, only old Hindustan 60 tractor is available in the market. So, knowing its specification before purchasing it is essential. Some key specifications of this Hindustan tractor model are:
Engine & Performance of Hindustan 60 tractor
The engine power of this tractor is 50 HP, which is produced when the engine operates at 2100 RPM. The engine capacity of this Hindustan tractor is 3054 cc, and the number of cylinders is 4. The specification of its engine ensures that the tractor is a perfect combination of power, performance, and efficiency.
The tractor's engine is also equipped with a liquid-cooling system to keep the engine cool during the long run.
The tractor's engine also produces a maximum torque of 188 Nm, which ensures the initial acceleration of the tractor is excellent.
Moreover, it is equipped with a dry-type air filter to filter the impurities from the air and allows only clean air to pass for the combustion process.
Transmission of Hindustan 60 tractor
This Hindustan tractor comes with a dual-clutch option, which allows the user to control the main transmission and the PTO power with the same clutch independently. The first half of the clutch is used for the main transmission, and the second half is used for the PTO.
The gearbox provided in this tractor is constant mesh. In this gearbox, the gears on the main and counter shaft constantly mesh with each other providing smoother transmission. The risk of gear teeth damage is also low, and the operator doesn't need to stop the tractor for gear changing.
Its gear pattern includes 8 Forward + 2 Reverse gears. It means the tractor has 4 forward and 1 reverse gear speed and two driving modes, which are high and low.
Other Features of Hindustan 60 tractor
PTO HP: 43 HP
Brakes: Oil-Immersed Brakes
Steering: Power Steering
Lifting Capacity: 1600 kg
Wheel Drive: 2WD
Why Should you Consider purchasing a Used Hindustan Tractor?
The new tractor models of Hindustan brand are not available in the market as the production of only tractor Hindustan 60 has been stopped. However, you can get a second hand Hindustan tractor in the market. So, when considering the purchase of an old Hindustan tractor, there are several reasons to consider. Here are some key reasons why you should consider purchasing a second hand Hindustan 60 tractor:
Reliability: Hindustan tractors were known for their reliability and durability. They were designed to withstand the demanding conditions of agricultural work and were built using robust components. It ensured that the tractor could handle various tasks effectively and continues to perform consistently over time.
Cost-effectiveness: Hindustan tractors were often priced competitively compared to other tractor brands, making them a cost-effective choice. They offered a good balance between price and performance, allowing farmers to maximise their investment in agricultural machinery.
Fuel efficiency: Hindustan tractors were designed to be fuel-efficient, which could result in significant savings in fuel costs over the long run. These tractors utilised advanced engine technology and efficient transmission systems to optimise fuel consumption while delivering the necessary power for agricultural operations.
Versatility: The Hindustan 60 tractor could be used with a wide range of implements, ensuring the versatility of the tractor.
Local Relevance: Hindustan tractors were manufactured in India, considering the specific needs and conditions of Indian farmers. As a result, these tractors are designed to tackle the challenges typically encountered in Indian agricultural practices.
Resale Value: Hindustan tractors still hold their value well in the resale market. Their reputation for reliability and durability makes them sought after by second-hand buyers.
Hindustan Tractors Price in India 2023
Hindustan tractor price in India is budget-friendly and convenient for farmers. At present, the company offers only one model in the Indian market. It comes with terrific engine reliability and 50 hp of power. The model is named Hindustan 60, which is available for customers with a two-year warranty.
Hindustan tractor 50 hp price is reasonable as compared to the features it offers. This new Hindustan tractor model suits the budget of farmers, and they can easily go for it.
Conclusion
It's important to conduct thorough research and consider factors such as your specific requirements, budget, and available local support before making a tractor purchase. Additionally, comparing different tractor brands and models can help you make an informed decision that aligns with your farming needs.
We hope you learned everything about Hindustan tractors in India through this write-up. To learn more, stay tuned with Tractorkarvan.