Used tractors market in India is very large and the demand for it is ever increasing in India. But a used tractor market is filled with uncertainty due to information asymmetry. It is pertinent for you to know about factors that needs to be considered before purchasing a second-hand tractor in India. these include your requirement, tractor's working condition, and documents correctness, among others.
Table of Contents
Introduction
Tractors have always been an essential tool for farmers to enhance their agricultural operations' productivity, efficiency, and profitability. However, the high prices of new tractors may not be affordable for everyone. Purchasing a used tractor has served as a cost-effective alternative for small to medium-sized farmers, particularly in India.
But how can one ensure getting the right deal when buying a used tractor? In this blog, we outline several critical factors that one must consider before purchasing a used tractor in India.
Used Tractor Buying Guide for Farmers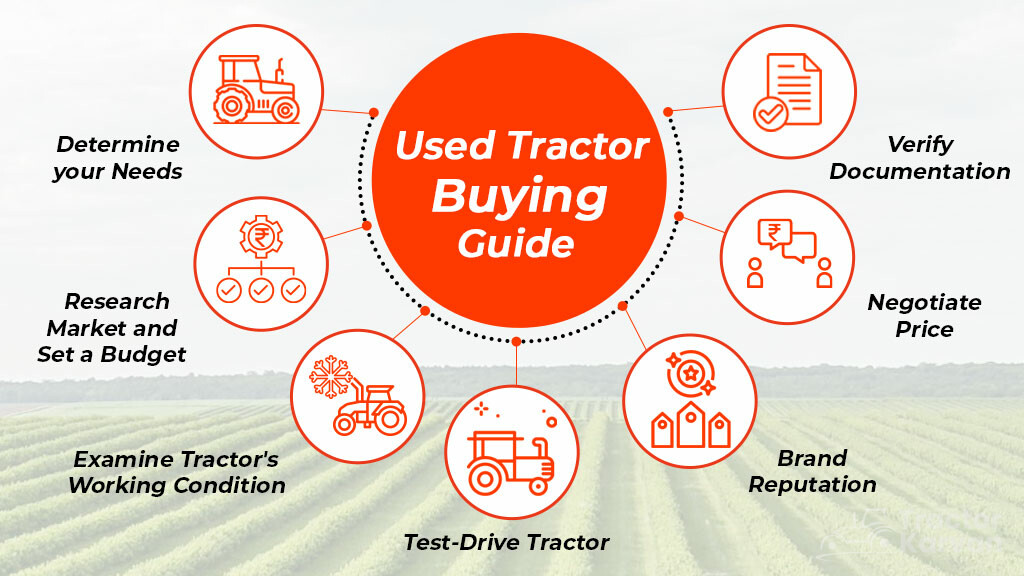 First lets us understand what a tractor is in brief. A tractor is a versatile farm vehicle that can be used for a wide range of tasks, such as ploughing, sowing, harvesting and transporting goods. Now, if you are looking to buy a second-hand tractor, you need to know about things that you must consider while buying an old tractor.
Determine Your Needs
Before looking for an ideal used tractor, thoroughly assess your farm needs and expectations. Determine the size and type of the tractor considering factors such as the size of the land, the variety of crops being grown, and the extent of tasks you plan to perform with the tractor.
Different tractors are designed for various purposes, so clearly understanding your requirements will help you make the right choice. The following are the main types of tractors to choose from:
Utility Tractors: Known for high power output, these tractors are fit for heavy-duty farming and commercial tasks.
4WD Tractors: The four-wheel drive tractor provide power to all four wheels and thus can complete fieldwork without getting stuck.
Mini Tractors: The mini tractors are smaller in size, which makes them perfect for landscaping and orchards.
Row Crop Tractors: The ground clearance of these tractors is high, making them ideal for row cropping operations like ploughing, harrowing and weed control.
Research the Market and Set a Budget
Once you know your requirements, research the market for a fair idea of the average prices of used tractors that suit your farming needs. Compare models and prices in online marketplaces, local newspapers and from authentic dealers. Based on your investigation, set a realistic budget that factors in the purchase price, maintenance costs, and repair expenses.
Examine the Tractor's Working Condition
When inspecting a used tractor, make sure to evaluate its working condition thoroughly:
Engine: Check for any oil leaks, the colour of exhaust smoke, and listen for any unusual noises.
Transmission: Look for any fluid leakage and ensure proper gear shifting.
Lubrication: Confirm that all joints are well-lubricated and watch out for excessive wear and tear.
Tyres: Check for cracks and excessive wear in the tire tread and sidewalls.
Electrical systems: Test the functionality of lights, indicators and starting system.
Getting a detailed history of the tractor can provide valuable insights into its previous ownership, maintenance records, usage and repairs. The information will help you in making an informed decision about the tractor's reliability and condition.
Test-drive the Tractor
A test drive is crucial to evaluate the tractor's performance in real-time. It allows you to assess the tractor's steering, braking, transmission, engine and hydraulic systems. Pay attention to how the tractor handles different terrains and loads.
Brand Reputation
Consider purchasing a tractor from a reputable brand known for its durability and reliability. Established brands often have a wider network of service centres and easier access to spare parts. It is crucial for maintenance and repairs.
There are many different brands and models of used tractors available in India. Do some research to learn about the different features and specifications of each model. Consider the horsepower, fuel efficiency, and warranty of each tractor.
Negotiate the Price
The price of a used tractor can vary based on the particular model, year, condition and location. Be prepared to negotiate the price with the seller.
After a thorough examination, discuss any potential issues or concerns with the seller. If you discover any problems, negotiate a fair price based on repair or maintenance costs.
Verify the Documents
Before purchasing a used tractor, ensure that all the necessary documents are available and valid. These may include:
Registration Certificate
Insurance documents
Owner's manual
Receipts of replaced parts or repairs
Here are some additional things to consider when purchasing a used tractor in India:
The age of the tractor. Even though older tractors are less expensive, they may also require more maintenance.
The hours on the tractor. The more hours the tractor has been used, the more wear and tear it may have.
The condition of the tractor. Look for signs of damage, like rust and dents.
The warranty. Some used tractors come with a warranty, which can give you peace of mind.
Why Prefer Used Tractors in India?
There are certain top advantages of used tractor in India. Some of them are cost savings, access to wide range of tractors, faster availability, and reliability, among others. Indian farmers often prefer used tractors for several reasons:
Cost-Effectiveness: Indian farmers, especially those with limited financial resources, find it more cost-effective to invest in a used tractor.
Value for Money: Many used tractors still have significant life left in them and can perform well for years after purchase.
Suitability for Small Farms: Used tractors provide the right amount of power for small-scale farming operations without the high cost associated with new, larger tractors.
Availability: Used tractors are readily available in the Indian agricultural market. Farmers can select from various models and brands to find one that suits their specific needs.
Lower Initial Investment: Buying a used tractor requires a lower initial investment compared to a new one. It allows farmers to allocate their budget to other essential farming needs.
Conclusion
In conclusion, purchasing a used tractor in India can be a cost-effective solution for farmers if done intelligently. Remember that a well-maintained used tractor can be a valuable addition to your farm. It can offer the reliability and performance you need at a fraction of the cost of a new one.
By following the steps mentioned above, you can ensure that you are investing in a tractor that will deliver consistent performance and value for money.