A tractor subsidy is a financial assistance provided by the government to farmers to reduce the cost of purchasing tractors. The main objective of tractor subsidy in India is to promote mechanisation in agriculture. Some of the tractor subsidy schemes in India includes Macro Management Scheme on Agriculture, and Sub Mission on Agriculture Mechanisation, among others.
Table of Contents
Introduction
Farm mechanisation is the use of machines and tools to perform agricultural tasks. Tractors are crucial in mechanising farming operations. They make these tasks more efficient and productive. However, the high cost of tractors often becomes a significant barrier for small and marginal farmers.
To make tractors more accessible and affordable to Indian farmers, the government of India has introduced subsidy on tractors and agriculture equipment. These subsidies aim to encourage the adoption of modern farming methods and boost the agricultural sector.
What is Tractor Subsidy?
A tractor subsidy is a financial assistance provided by the government or relevant authorities to farmers to reduce the cost of purchasing tractors. The main objective of agriculture equipment subsidy in India is to promote mechanisation in agriculture.
Tractor subsidies make tractors more affordable for farmers, especially marginal and small farmers. These subsidies aim to encourage the adoption of modern farming practices, increase agricultural productivity, and improve the overall livelihood of farmers.
The tractor subsidy can come in different forms:
Direct Cash Subsidy
Interest Subsidy
Credit Linked Subsidy
Discounted Price
Cooperative Bank Subsidy
Tractor Subsidy List for Farmers in India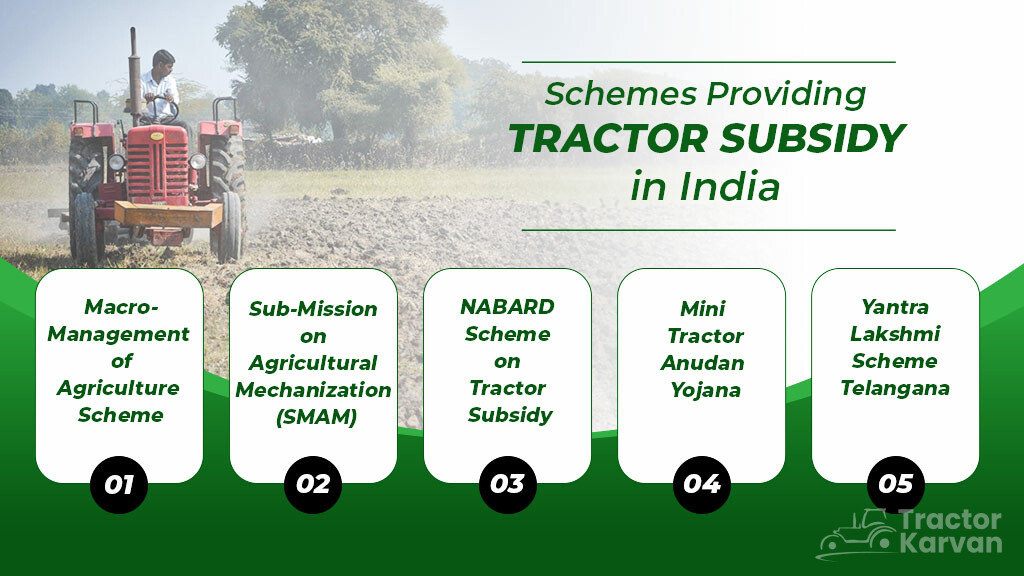 The Government of India has been promoting farm mechanisation through several schemes. They provide subsidies to farmers to purchase new tractors and related tractor implements. Here is the tractor subsidy list for Indian farmers:
Macro-Management Scheme of Agriculture
Started in 2000-01, the scheme consists of 27 centrally sponsored schemes. It is the Farm Mechanisation Component of the scheme that focuses on mechanisation by offering subsidies. The best part about this scheme is that it is open to all farmers.
For tractors up to 35 PTO horsepower, you get a subsidy of 25% of the cost. It is limited to INR 30,000.
Also, this subsidy is the same for power tillers (8 horsepower and above) and self-propelled machines like paddy transplanters and self-propelled reapers.
It is limited to INR 2,000 and INR 20,000 for manually operated tools and specialised power-driven equipment, respectively.
Sub-Mission on Agricultural Mechanization (SMAM)
The Sub-Mission on Agricultural Mechanization is a centrally sponsored scheme. It was launched in 2014-15 to provide financial assistance to states for promoting agricultural mechanisation.
The scheme offers financial aid to farmers for purchasing tractors and other farm machinery. It also encourages custom hiring centres for the rental of machinery.
Under this scheme, farmers are eligible for a subsidy of up to 50% for purchasing tractors.
The subsidy is extended to small and marginal farmers and other categories like SC/ST farmers, women farmers, and beneficiaries of various government programs.
NABARD Scheme on Tractor Subsidy
National Bank for Agriculture and Rural Development (NABARD) offers financial assistance to farmers for purchasing tractors through various cooperative banks and regional rural banks.
The scheme aims to provide affordable credit and make tractors more accessible to farmers, including a Mahindra tractor subsidy.
The NABARD program offers a subsidy of 30% on tractor purchases and a full 100% subsidy on the acquisition of additional transportation machinery.
The scheme empowers farmers to invest in machinery that accelerates their crop cultivation and progress.
Mini Tractor Anudan Yojana (Maharashtra)
Mini Tractor Anudan Yojana provides subsidies or financial assistance to farmers for the purchase of mini tractors. This initiative is designed to encourage the adoption of mini tractors, which are smaller and more compact versions of traditional tractors, among farmers.
This scheme offers a 90% subsidy to self-help groups of scheduled castes and neo-Buddhist groups.
These groups get the aid of INR 3.15 lakhs to buy mini tractors and accessories like rotavators and cultivators. The members need to be residents of Maharashtra.
Yantra Lakshmi Scheme Telangana
The Telangana government provides financial assistance through subsidies to cover a portion of the cost of agricultural machinery. This scheme offers subsidies and loans to purchase tractors.
The beneficiary receives a 50% subsidy on the total cost and a loan for the remaining cost. Cooperative societies and individual farmers can avail of the scheme.
Nationalised banks sanction the loan for the remaining 50%. Only residents of Telangana are eligible for this scheme.
Rashtriya Krishi Vikas Yojana (RKVY)
The Rashtriya Krishi Vikas Yojana is a flagship scheme that aims to strengthen the infrastructure and promote innovative agricultural practices. One of the components of this scheme focuses on farm mechanisation.
Farmers can avail subsidies for the purchase of tractors and other agricultural machinery under this component. The subsidy amount varies from state to state, encouraging farmers to adopt modern farming techniques.
Benefits of Tractor Subsidy to Farmers
Tractor subsidy in India offers several significant benefits to farmers and the agricultural sector. Here are some key benefits of tractor subsidies in India:
Enhanced Productivity: Tractor subsidies enable farmers to adopt mechanised farming techniques, increasing productivity.
Increased Crop Yield: Mechanised farming with tractors can result in higher crop yields due to improved cultivation practices, timely operations, and reduced dependency on manual labour.
Timely Operations: Tractors enable farmers to perform agricultural operations on time, such as planting and harvesting. It is crucial for optimal crop growth and yield.
Reduced Labor Intensity: Tractors lessen the need for manual labour, especially in labour-intensive tasks like ploughing and tilling. It eases the physical burden on farmers, leading to better health and well-being.
Time & Cost Savings: Mechanisation through tractors saves time and reduces the need for hiring labour. It ultimately lowers labour costs for farmers.
Conclusion
The Indian government's efforts to provide tractor subsidies through various schemes have significantly contributed to modernising Indian agriculture. These initiatives aim to improve productivity and enhance the livelihoods of farmers.
India can achieve higher agricultural output, food security, and economic growth by promoting farm mechanisation. The tractor subsidy list ensures that farming remains an attractive and viable profession for upcoming generations.