India is the leading jute producing country in the world. It contributes 70 per cent of the total jute production of the world. Jute production in India in 2022-23 (up to July 2022) was 384.1 lakh tonnes. In 2021-22, the production of Jute in the country was 1,080 lakh tonnes. The exports of Jute products and jute has increased between 2015-16 and 2020-21 at a CAGR of 9%.
Table of Contents
Introduction
Jute is also known as the "golden fibre". It is one of the important cash crops produced in Eastern India. Jute plantation requires a hot and humid climate for cultivation. The Ganga Delta area provides this type of environment.
Jute is the second most common vegetable fibre after cotton crops in terms of production, usage, worldwide consumption, and availability. This fibre has low extensibility, high tensile strength and ensures that textiles breathe better. It is primarily used for making various products like sacks, bags, ropes, and textiles.
Jute cultivation plays a crucial role in the Indian economy, providing employment to thousands of farmers and contributing significantly to the country's export earnings.
Top 10 States Famous for Jute Production in India
In this section, we have listed the top 10 states where jute agriculture is a major practice. These states have been the top producers of jute in 2020-21. Let's take a look at them one by one:
West Bengal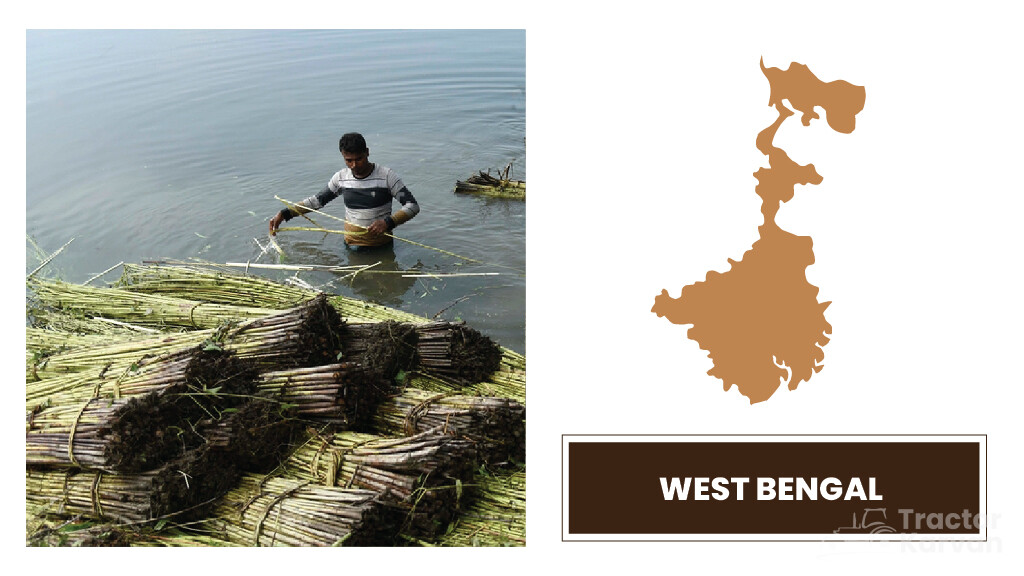 West Bengal is the leading state in jute cultivation, contributing over 80% of India's total jute production. The fertile soil, abundant water supply from the Ganges and Brahmaputra rivers, and favourable climate make it an ideal region for jute farming.
Major jute-producing districts in West Bengal include Murshidabad, Nadia, and North 24 Parganas.
Assam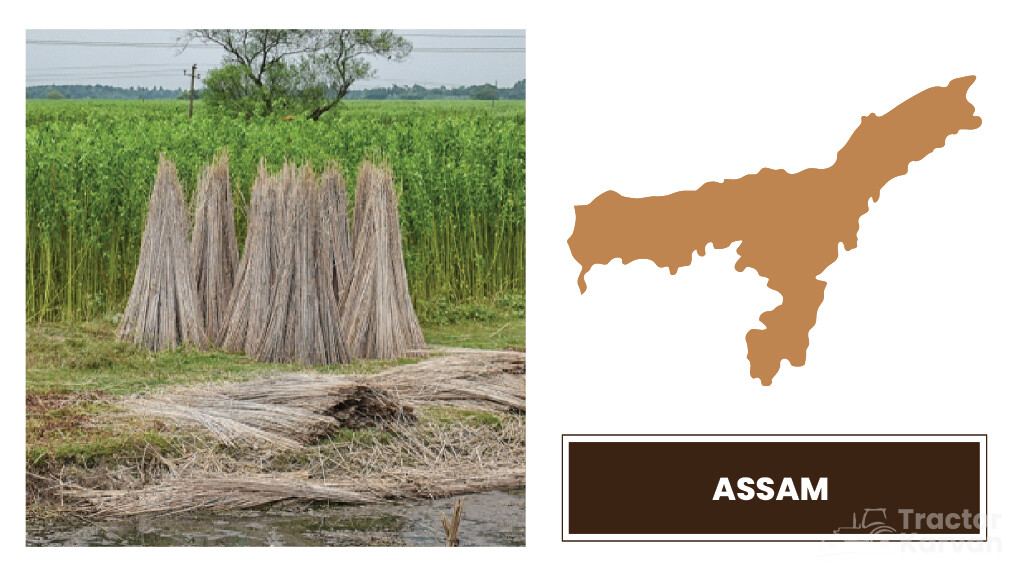 Assam is the second-largest jute-producing state in India. The Brahmaputra River valley and the favourable weather conditions in the region are conducive to jute cultivation.
Dibrugarh, Jorhat, and Nagaon are the major jute-growing districts in Assam. The state also produces a significant amount of organic jute, which is in high demand globally.
Bihar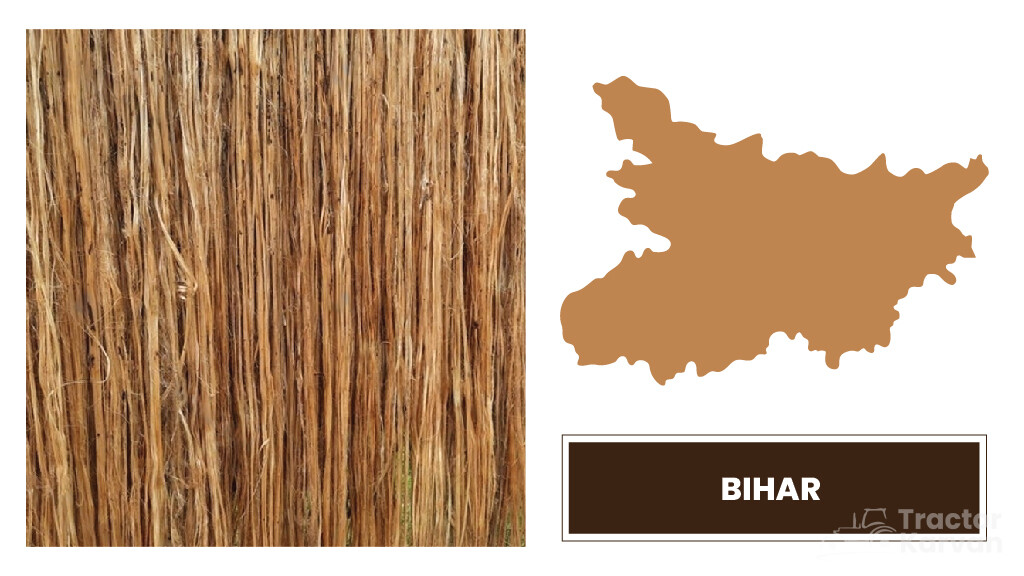 Bihar is known for its high-quality jute production, and it is at the 3rd spot in terms of jute production in India. The Ganges and its tributaries provide the necessary irrigation for jute cultivation.
The fertile Gangetic plains and suitable climatic conditions make Bihar an excellent region for growing jute. Vaishali, Saran, and Muzaffarpur are the prominent jute-growing districts in the state.
Meghalaya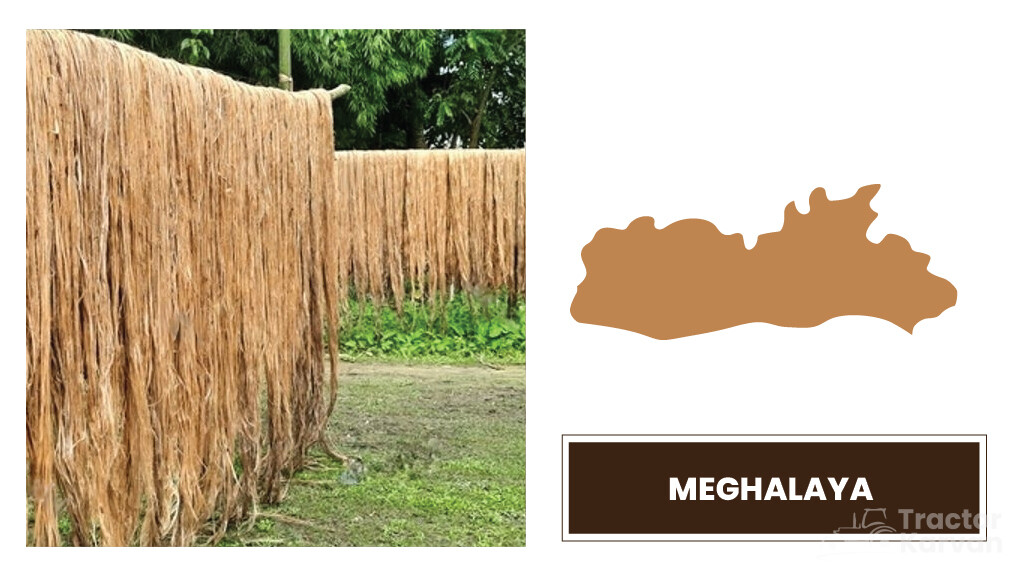 Meghalaya, located in the northeastern India, has favourable agro-climatic conditions for jute cultivation. The state's hilly terrains and abundant rainfall create an ideal environment for growing jute.
East Garo Hills, West Garo Hills, and West Jaintia Hills are the primary jute-growing districts in Meghalaya.
Nagaland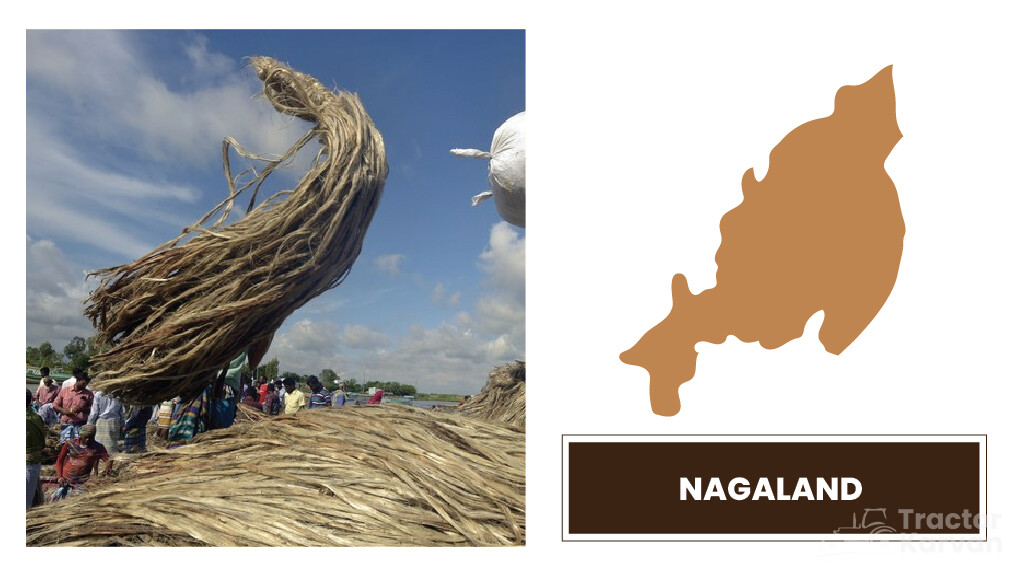 Nagaland is gradually emerging as a significant jute-producing state in India. It is in the Northeastern part of India. The state's fertile land, favourable weather conditions, and government support have encouraged farmers to take up jute cultivation.
Odisha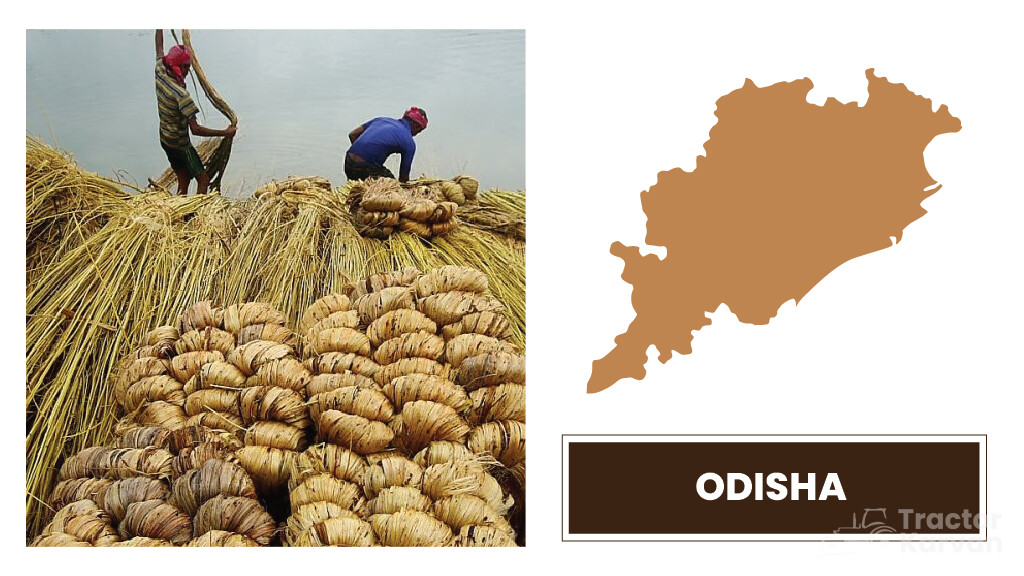 Odisha is another significant jute-producing state in India. The state's coastal regions, along with the river deltas, provide the necessary moisture and humidity for jute cultivation.
Balasore, Bhadrak, and Cuttack are the major jute-growing districts in Odisha. The state government has taken various initiatives to promote jute farming and improve the livelihood of jute farmers.
Andhra Pradesh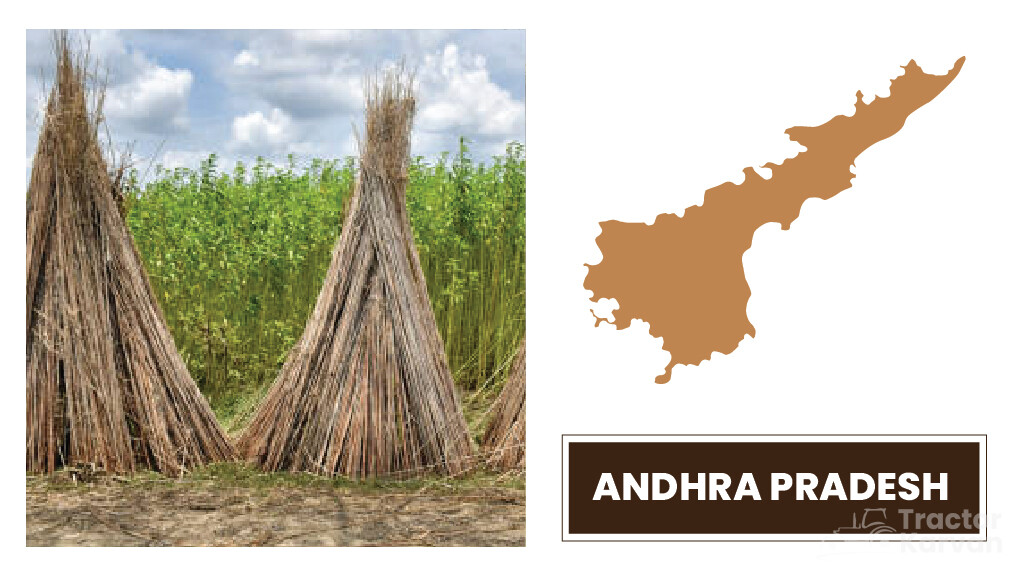 Andhra Pradesh has a significant share in India's jute production. The Godavari and Krishna River deltas provide the necessary irrigation for jute cultivation.
East Godavari, West Godavari, and Krishna districts are the major jute-growing regions in the state.
Tripura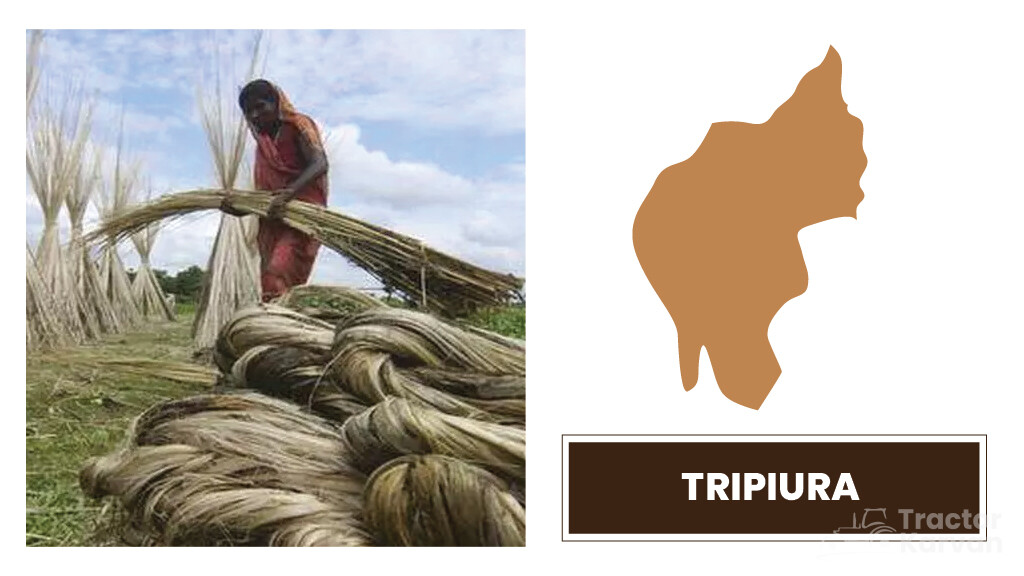 Tripura, a state in Northeast India, is known for its jute cultivation. The favourable climate, fertile soil, and availability of water from rivers and streams contribute to the growth of jute in the region. West Tripura, South Tripura, and Dhalai are the primary jute-growing districts in Tripura.
Chhattisgarh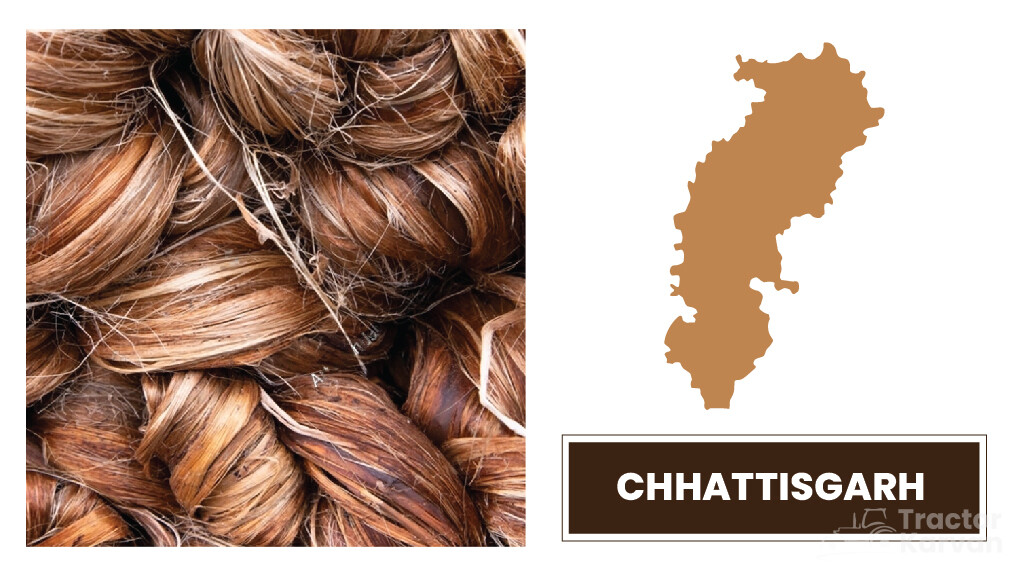 Chhattisgarh, known for its agricultural prowess, also contributes to jute cultivation. The fertile soil and availability of irrigation facilities make it suitable for growing jute.
Jute cultivation in Chhattisgarh has gained prominence due to its sustainable nature and increasing demand for eco-friendly products.
Jharkhand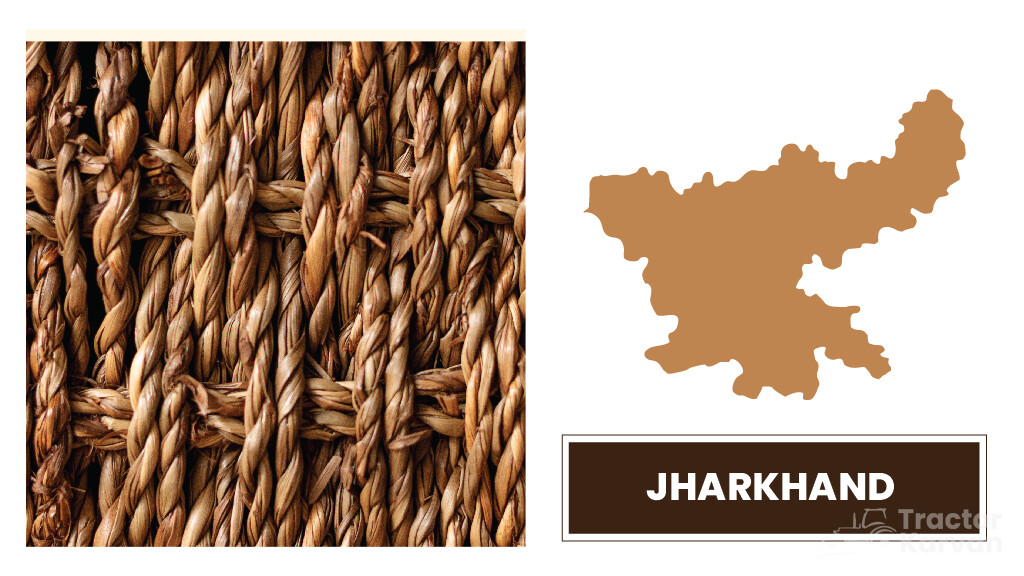 Jharkhand has a significant presence in the jute cultivation sector. The fertile Gangetic plains and the availability of water from the Ganges River make it suitable for jute farming. The government has implemented several schemes and programs to support jute farmers and increase jute production.
Jute cultivation involves several stages, including seed sowing, land preparation, retting, extraction of fibres, and processing. The farmers follow traditional methods as well as modern techniques to maximise the yield and quality of jute fibres. Then various industries like textiles, packaging, construction, and agriculture use the quality jute fibre.
Advantages of Jute Production in India
Jute production has many advantages, including:
Environmentally Friendly: Jute is a 100% biodegradable and sustainable fibre. It requires less water and land to grow than other natural fibres, such as cotton. Jute production also helps to sequester carbon dioxide from the atmosphere.
Durable: Jute is a strong and durable fibre. It is useful in making sacks, carpets, and other textiles that need to be able to withstand heavy use.
Affordable: Jute is a relatively affordable fibre, making it a good option for people who are looking for a sustainable and affordable alternative to plastic.
Versatile: Jute is useful in making a wide range of products, including bags, rugs, furniture, and even food packaging. It is a versatile and sustainable option for businesses and consumers alike.
Benefits of Jute Cultivation
Jute farming in India has several benefits. Some of the primary benefits of Jute production in India are:
Low Water and Land Requirements: Jute can be grown in areas with poor soil quality and low rainfall. This makes it a sustainable option for farmers in developing countries.
Low-input Crop: Jute does not require a lot of fertilisers or pesticides to grow. This makes it a more environmentally friendly option than other crops.
High Yield: Jute can be harvested two to three times per year. It ensures farmers get a good return on their investment.
Long Fiber: Jute Fibers are long and strong. This makes them ideal for a variety of applications, such as making bags, carpets, and burlap.
Biodegradable: Jute is a 100% biodegradable fibre. This means that it will break down naturally in the environment without harming the planet.
Overall, jute production has many benefits. It is an environmentally friendly, sustainable, and affordable fibre that can be used to make a wide range of products. As the demand for sustainable fibres continues to grow, jute is expected to become an even more popular choice for businesses and consumers alike.
Conclusion
Jute cultivation is a vital sector in India, providing employment opportunities and contributing to the country's economy. The top 10 states mentioned above have played a crucial role in the growth and development of the jute industry. With increasing awareness about eco-friendly products, the demand for jute and jute-based products is expected to rise further, making jute cultivation an attractive option for farmers across the country.
To learn about various other crops and farming methods in India, stay tuned with Tractorkarvan.