Animal Husbandry provides livelihood to two-thirds of the rural population. It witnessed a CAGR of around 8% between 2014-15 and 2020-21. Its contribution to agriculture increased to 30.13% and to GDP increased to 4.90% in 2020-21. The government has launched several schemes to promote animal husbandry. These include Rashtriya Gokul Mission and National Livestock Mission, among others.
Table of Contents
Introduction
India's agricultural landscape is closely linked with animal husbandry, a practice that involves raising and caring for livestock. With a substantial percentage of the population dependent on agriculture and aligned sectors, animal husbandry plays a vital role in both rural livelihoods and the national economy.
The Indian government has introduced a series of schemes to promote and improve livestock sector in India. In this blog, we will discuss some of the prominent government schemes that have been implemented to support animal husbandry in India.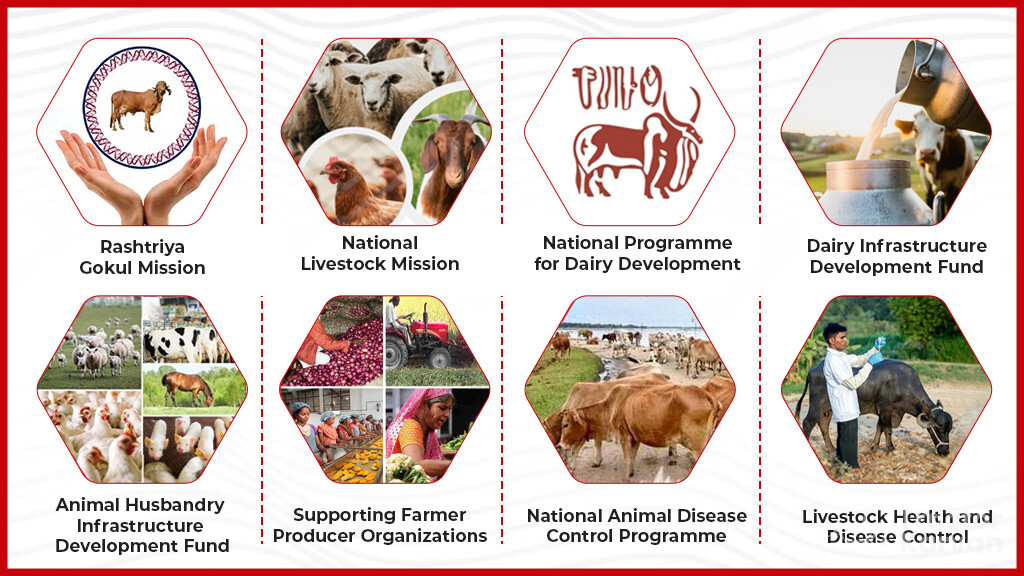 Rashtriya Gokul Mission (RGM)
The Rashtriya Gokul Mission, popularly known as RGM, was launched in December 2014.
The aim is to sustain and develop indigenous cattle breeds, thereby enhancing the productivity and sustainability of livestock.
It focuses on promoting the genetic upgradation of indigenous cattle breeds through selective breeding and modern reproductive technologies.
By supporting cattle farms, bull mother farms, and semen stations, the mission seeks to improve the quality of cattle and their products, benefiting both farmers and consumers.
National Livestock Mission (NLM)
The National Livestock Mission, also known as NLM, was launched in the year 2014-15.
It was launched for the sustainable development of the livestock sector, particularly in rural areas.
It focuses on employment generation through entrepreneurship development and breed improvement in sheep, goat, poultry, and pigs.
It has three sub-missions. These include:

Sub-Mission on Breed Development of Livestock & Poultry
Sub-Mission on Feed and Fodder development
Sub-Mission on Extension and Innovation

By enhancing the skills and knowledge of livestock farmers, the mission empowers them to adopt better management practices and increase their income.
National Programme for Dairy Development (NPDD)
The NPDD scheme was launched in February 2014 to promote and develop the dairy sector.
The scheme was created by merging three erstwhile schemes. These includes,

Intensive Dairy Development Programme,
Strengthening Infrastructure for Quality & Clean Milk Production, and
Assistance to Cooperatives.

This programme focuses on increasing milk production and productivity, particularly among small and marginal dairy farmers.
The programme aims to create a more organised and efficient dairy industry by providing financial assistance, training, and technical support.
Dairy Infrastructure Development Fund (DIDF)
This scheme was launched in 2017 and is popularly known as (DIDF).
The Dairy Infrastructure Development Fund was introduced to provide financial assistance for creating and enhancing dairy infrastructure.
This fund supports projects related to milk processing, chilling, packaging, and transportation.
By improving dairy infrastructure, the fund contributes to reducing post-harvest losses and ensuring that dairy products reach consumers in a timely and efficient manner.
Animal Husbandry Infrastructure Development Fund (AHIDF)
The Animal Husbandry Infrastructure Development Fund (AHIDF) seeks to support the development of modern and sustainable animal husbandry practices.
The corpus of this fund was kept at INR 15,000 crore.
This fund focuses on strengthening infrastructure related to disease control, animal rearing, and processing facilities.
By investing in quality infrastructure, the fund aims to enhance the overall value chain of animal husbandry and improve the income of farmers.
National Animal Disease Control Programme (NADCP)
The programme was launched in September 2019 to control Foot & Mouth Disease and Brucellosis.
It seeks to control the diseases by vaccinating livestock over five years from 2019-20 to 2023-24. It includes,

Vaccinating 100% cattle, buffalo, sheep, goat, and pig population for FMD, and
Vaccinating 100% bovine female calves of 4-8 months of age for brucellosis.

The programme aims to vaccinate livestock against these diseases and control their spread, thereby improving the overall health of the livestock population.
Livestock Health and Disease Control (LH&DC)
Apart from the specific disease control programme mentioned above, the government also focuses on overall livestock health and disease control.
The government launched the Livestock Health and Disease Control (LH&DC) Scheme for improving overall health of the livestock population.
It seeks to improve health through providing vaccination, diagnostic services, and veterinary care.
The main goals are:

To eradicate PPR in sheep and goats by 2030, and
To control Classical Swine Fever by vaccinating the overall pig population.

By ensuring the health of animals, the government contributes to the productivity and sustainability of animal husbandry practices.
Supporting Dairy Cooperatives & Farmer Producer Organizations (SDCFPO)
The Supporting Dairy Cooperatives & Farmer Producer Organizations scheme offers working capital loans to the State Cooperatives and Federations.
Under this scheme, an amount of approximately 303 crores was sanctioned to the National Dairy Development Board till December 2021 to implement the scheme all over the country.
The objective of this scheme is:

To make the market access stable for dairy farmers
To enable State Cooperative Dairy Federations to pay the farmers' dues timely and
Enable the cooperatives to produce milk at a compensable price for Indian farmers during the flush season.
Conclusion
The Indian government has implemented a comprehensive range of schemes to promote animal husbandry and ensure the well-being of livestock farmers. These schemes focus on enhancing livestock productivity and improving the overall value chain, infrastructure, and disease control measures. By supporting the livelihoods of millions of farmers engaged in animal husbandry, these initiatives contribute to the country's rural development, economic growth, and food security. As these schemes continue to progress and expand, the future of animal husbandry in India looks promising, with improved practices, increased income for farmers, and better-quality animal products for consumers.